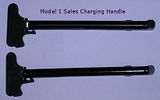 They look pretty much the same don't they? I didn't think there was a difference. I haven't used my Model 1 upper in a few years, I guess. Not fully trusting the charging handle, I put it in the Kuehl rimfire upper, and used the charging handle I got from the rimfire upper with a 5.56mm LMT upper.
The Kuehl uppers use a Jonathan Arthur Ceiner rimfire conversion kit with the chamber adapter milled off, and a custom made rimfire barrel. Just by the way.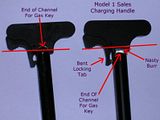 If you look a little closer, you can see that the channel on the underside, for the gas key, is shorter on the Model 1 charging handle. The rimfire conversion kit ran through two 27-round mags with the Model 1 charging handle before the rimfire bolt raised enough of a burr to stop the bolt from cycling.
Upon closer inspection, the locking tab is also bent. Not sure when that happened, or if it came that way.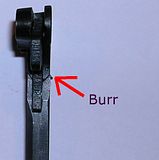 Closer, side-view, of the burr that brought my shooting session with the rimfire upper to a screeching halt.