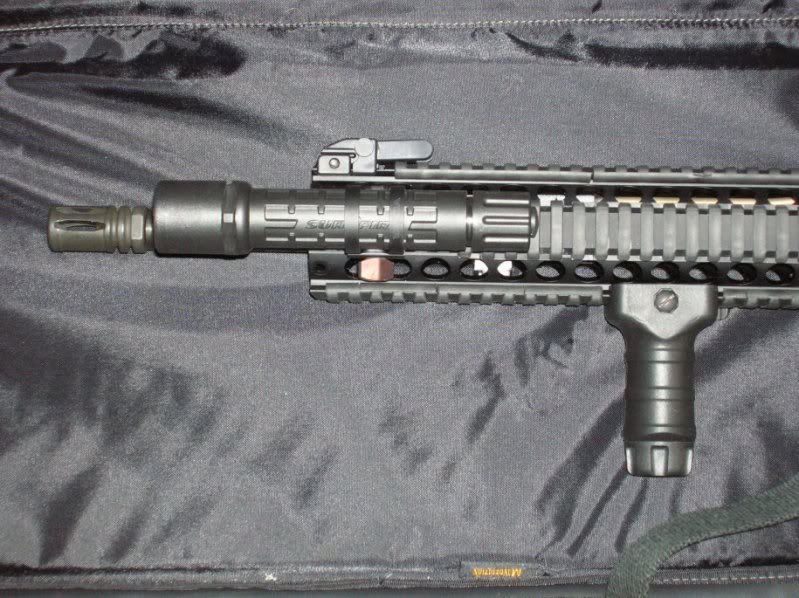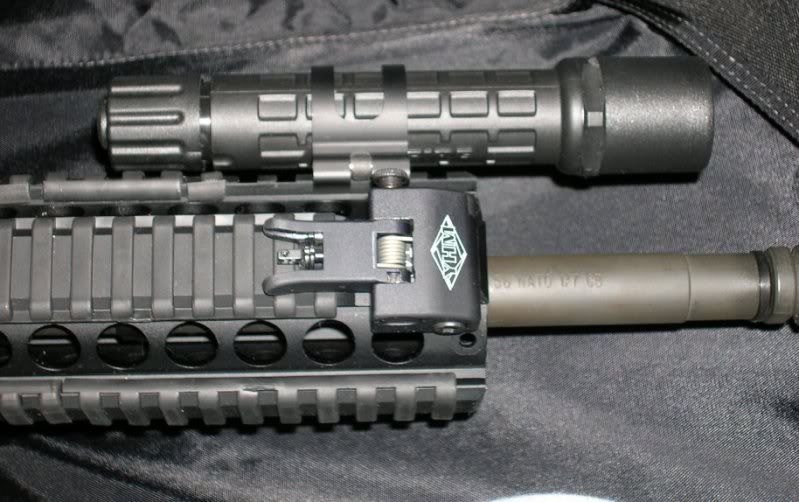 I had been using a
Streamlight TLR-1 light
on the carbine, but I'm seeing a lot of shooters using Surefire Nitrolon flashlights, usually with some kind of LED upgrade. I tried it out, and I can see several advantages in this method. Some of the LED upgrade bulbs are really bright, and the push-button switches are simpler than the switch on the TLR-1.
A lot of said shooters are using the
Viking Tactics
light mount. I didn't think that was what I wanted, as it requires a tool to remove it from the rail, and I wanted something that I could ditch quickly if the flashlight should fail, or if I just didn't need it. The Vltor mount has a nut that can be unscrewed with only bare hands.
That nut that secures the mount, by the way, is secured to the stud, so that it can't be completely unscrewed and lost. I wish this was done more often.
The problem with the mount is that it doesn't work well with rails that aren't to Picatinny spec. The Midwest Industries rails are a little larger than true Pic-spec, and the mount wouldn't hold the flashlight securely. The instruction sheet that came with the mount says something about using a set-screw to hold the flashlight in position if the mount in used with non-spec rails, but there was no set-screw included, and there's no threaded hole for one in the mount. My sort of half-assed solution was to cut a shim from an aluminum can to get the mount to work on my Midwest Industries handguard. I've got a couple spare shims stored in the rubber plug of the MIAD pistol grip.