I found some for about $16 each at the Valley Forge Gun Show, and bought three. When I got them home and took them apart for inspection, I realized that was a mistake.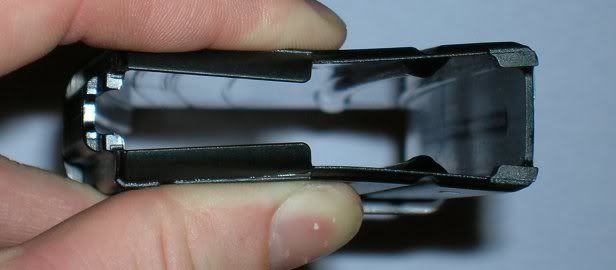 The plastic body of the mag is rather thin, and can be bent inward in the middle noticeably.
The follower is a variation on the green G.I. follower, and it
will
tilt if you push on either the front
or
the back.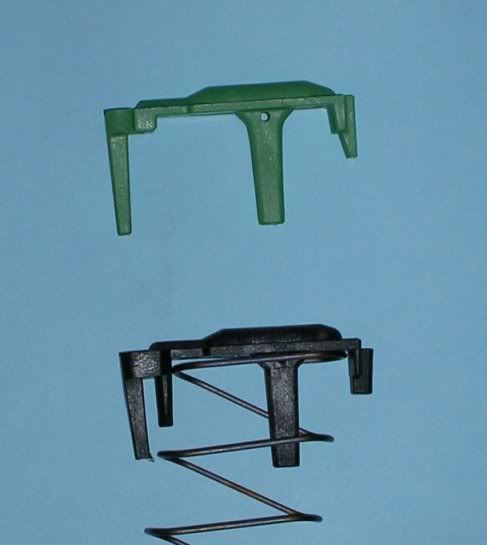 Green G.I. follower on top, Lancer follower bottom
Getting them apart for cleaning is not particularly easy. The floor-plate (which has a rubber bumper) locks onto the mag body with three tabs. To remove it, you need to push in on one of the side tabs with a cartridge or a pen or a similar pointy tool, and pull the floor-plate, and hold it so that it doesn't reengage. Then you need to press in the tab on the other side. At this point the mag spring will probably push the floor-plate out, and you can disengage the rear tab. There is a tool, sold separately, that pushes in both side tabs at once.
For comparison, I'll explain how to disassemble a PMag. Press in the center of the lockplate with the locking tab of the magazine cover (or the tip of a bullet or a pen), and slide off the floor-plate. With the floor-plate off, you can easily pull the guts out of the mag body. It takes longer to explain it than it does to do it.


I'm going to get rid of these mags one way or another. I don't think they're as good as PMags or plain old metal mags. One will probably go with the OA-96 pistol when I get another pistol upper. Hopefully, I'll sell one or two more along with the Colt M-16 BCG that I need to sell.

A Lancer representative on the AR15.com forums has said that Magpul anti-tilt followers won't work well with the magazine body. They aren't compatible with any aftermarket floor plates with pull tabs either.

UPDATE, 1/16/11: I've run one of my Lancer magazines through a couple of rifles, with no issues. I haven't really heard anything bad about them from anyone else either. Some of the guys that run carbine courses are recommending these. I'm afraid I've got my foot in my mouth on this one.