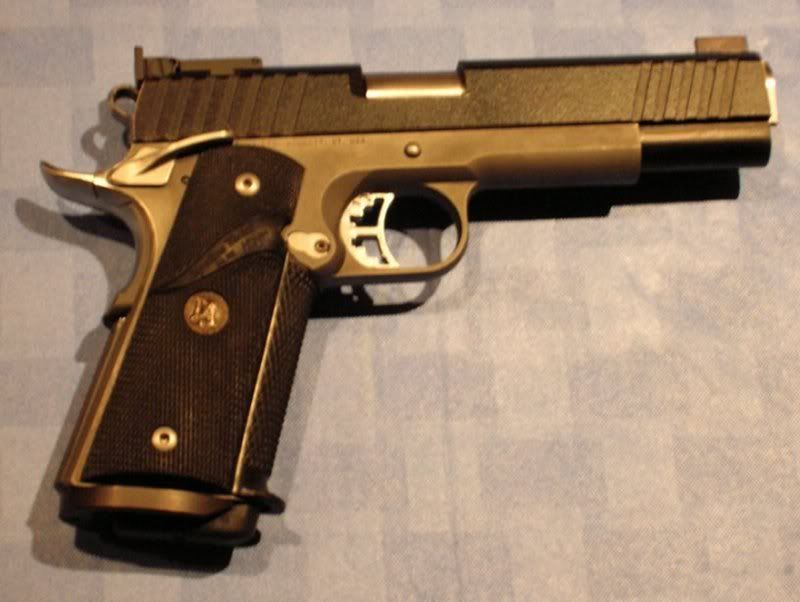 No, I'm not going to leave the front sight like that. I just haven't gotten around to reshaping it yet.
I've got the barrel to where it locks up. I still need to tap the back of the slide the last little bit, but I'll put some hardball through it before filing any more. If it's still tight after a couple boxes of ammo, then I'll file again.
The rear of the slide matches up almost perfectly with the rear of the frame rails. I can delay blending the two together for a while.
The EGW extended, oversize ejector is fitted to the frame, but sticks out the back of the slide, and needs blending.
Still don't have the bolt-on plunger tube or oversize firing pin stop from EGW. I'll e-mail them again about the order shortly.
To Do List:
Blend and tune ejector
Adjust overtravel and pretravel stops
Fit firing pin stop
Drill and tap frame for plunger tube
Drill and tap slide for rear sight screw
Drill hole in slide for front sight roll pin
Blend rear of frame rails/slide/ejector
Paint or blue frame, grip safety, slide stop, thumb safety
Shape front sight
Serrate rear of front and rear sights
Match slide stop (angular edges) to thumb safety (rounded edges)
Install and tune extractor
Test and tune
Cut the funky lip off the bottom of the grip frontstrap
That's about all that I can think of for now.

Next time I post, I'll fill you in on all the parts I've used, and maybe a picture of all the tools.